Customer Experience Management
Best CXM for Corporate Banking
Our real-time customer experience management for banks allows for a complete overview of your customers satisfaction. Automatize and improve your customer data.

We offer real competitive advantage by getting real-time feedback, that enhances collaboration with your business customers
We provide your business customers with the most relevant questions in each survey to ensure reply-rate.
Our benchmark questions allows for comparison and markets data to compare your position, where you over and under performs on specific metrics.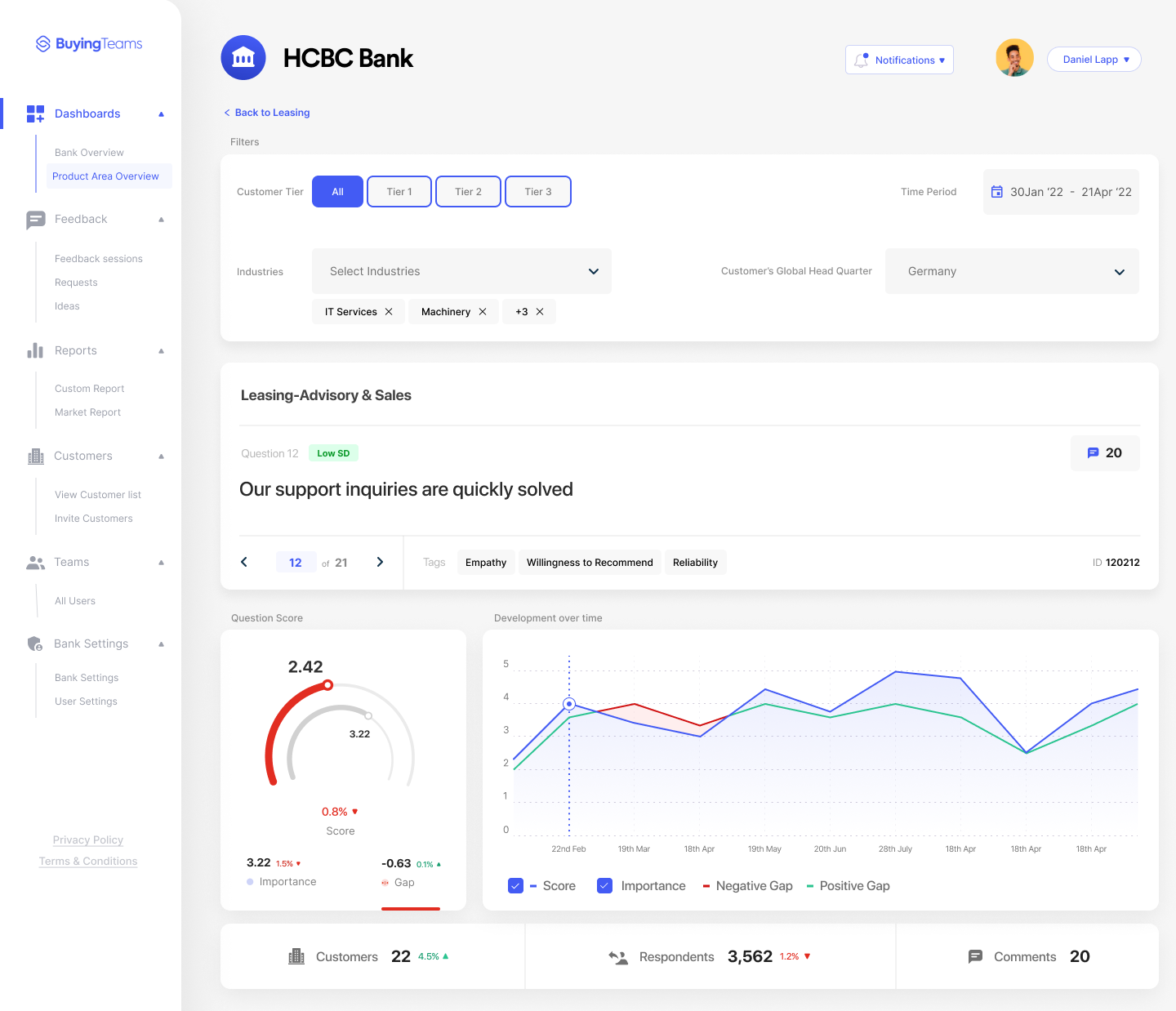 Bank References
&
Business Testimonials
Don't take our word for it – here's what our clients say:
Societe Generale is using CXFacts to gather real-time customer experience and build even closer relationships with their corporate customers.
Nordea is using CXFacts to be ahead of the competition by understanding their customers even better and ensuring their product offerings and service, match the demands of their corporate customers.
We focus on adding value to your customers
Many of your customers might already be using CXFacts to provide feedback,
here are some of the industries currently using CXFacts.









Some of the largest corporates in the world are already using CXFacts as their preferred Bank Relationship Management tool.
Contact us to hear more about data your customers might already have given you.
Digital feedback – Digital collaboration
We provide your bank with a platform to collaborate with your business customers.

We focus on providing the best tool for the business customer only.
We plan on expanding to private customers in near future.
Your business customers can invite their entire team to the platform. Providing valuable feedback and collaboration realtime
Give value to your customer
We designed our platform to ensure value for the businesses and banks. We give business insights to your customers for free. Make giving feedback to your bank the best experience also.
We give actionable insights to your banks service performance. We provide your bank with more data than any other feedback provider. Use your Customer Experience data to improve your position.

Get detailed insights into your banks performance benchmarked against relevant competitors
Deeper insights than our public benchmarking and awards.
We provide you a full digital kit to market your position.
We give you insights to where you can improve!
See which product areas perform best with validate data from your own customers.
See directly in our Business Insight Dashboard, with our App or generated reports.
Share with colleagues and improve your service.
All our servers are running on AWS Finance with 100% green energy.
We are your zero-emission partner to your data and service needs.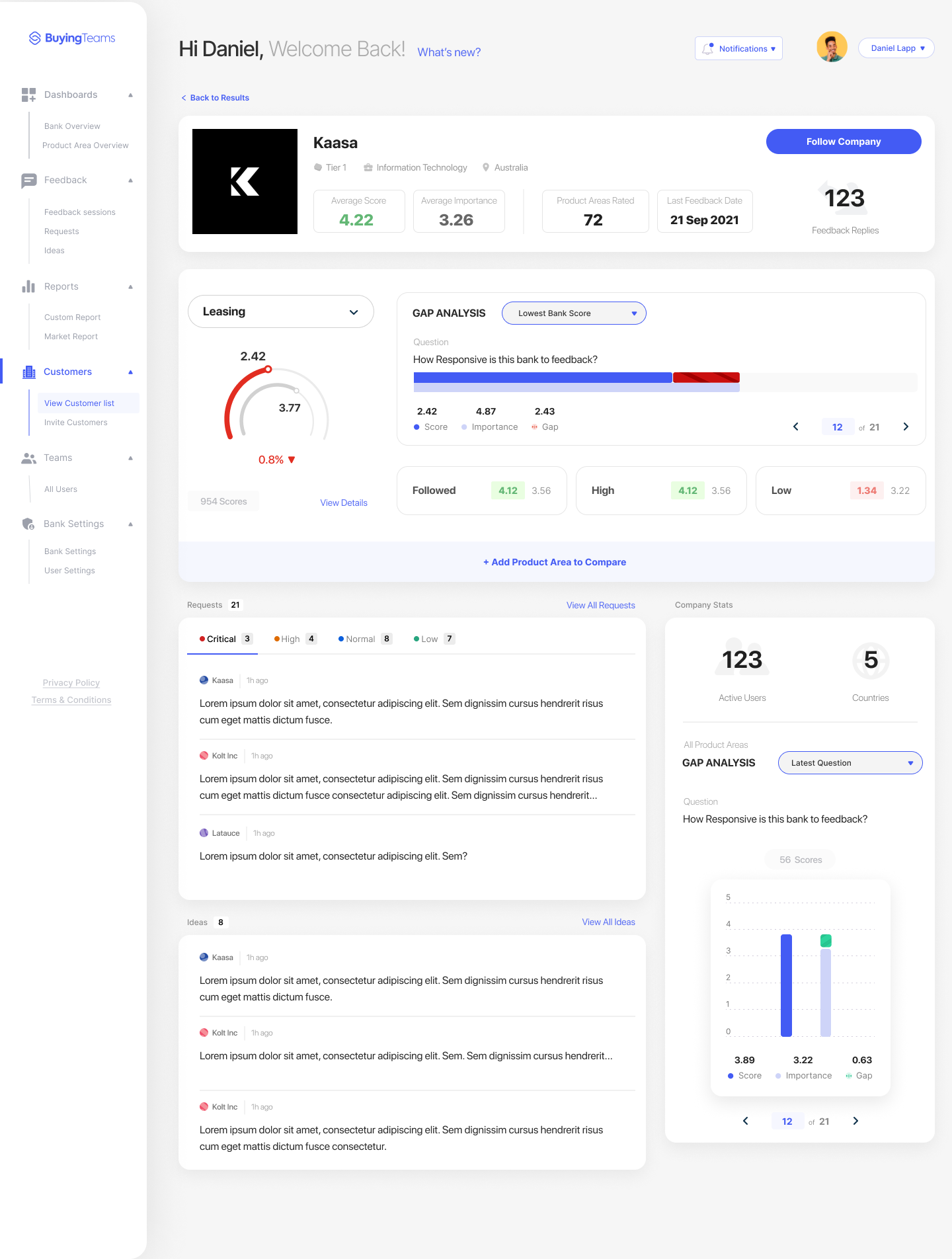 We can help digitalize your collaboration and feedback requirements.
We provide a professional infrastructure with API and full tier 1 support.
Full cloud solution. Works without any implementation.
Dive deeper into the data with an API. Automate your entire CX.
Take action easily with relevant data in real-time.
Full overview of your customers' service in the palm of your hand
Track and see how your service KPIs are developing over time
Feedback comes automatically from your customers
We ensure, validate and secure data by using end-to-end encryption and more to keep data safe
We offer secure API to integrate our data to your own BI or CRM-systems
We have our platform placed under AWS Finance to ensure highest data security
There is no requirement for integration to use our app or web platform
We delete all inactive accounts after 6 months
We update all platforms regularly and provide security and feature updates
We review and approve all new companies before any data is public
We only analyse our own data and do not sell to third parties
AI misinformation detection
We use algorithms to detect misinformation in data
All data is placed under AWS in Frankfurt. Full GDPR compliant
We ensure the data is validated for both banks and business
We are following data and documentation standards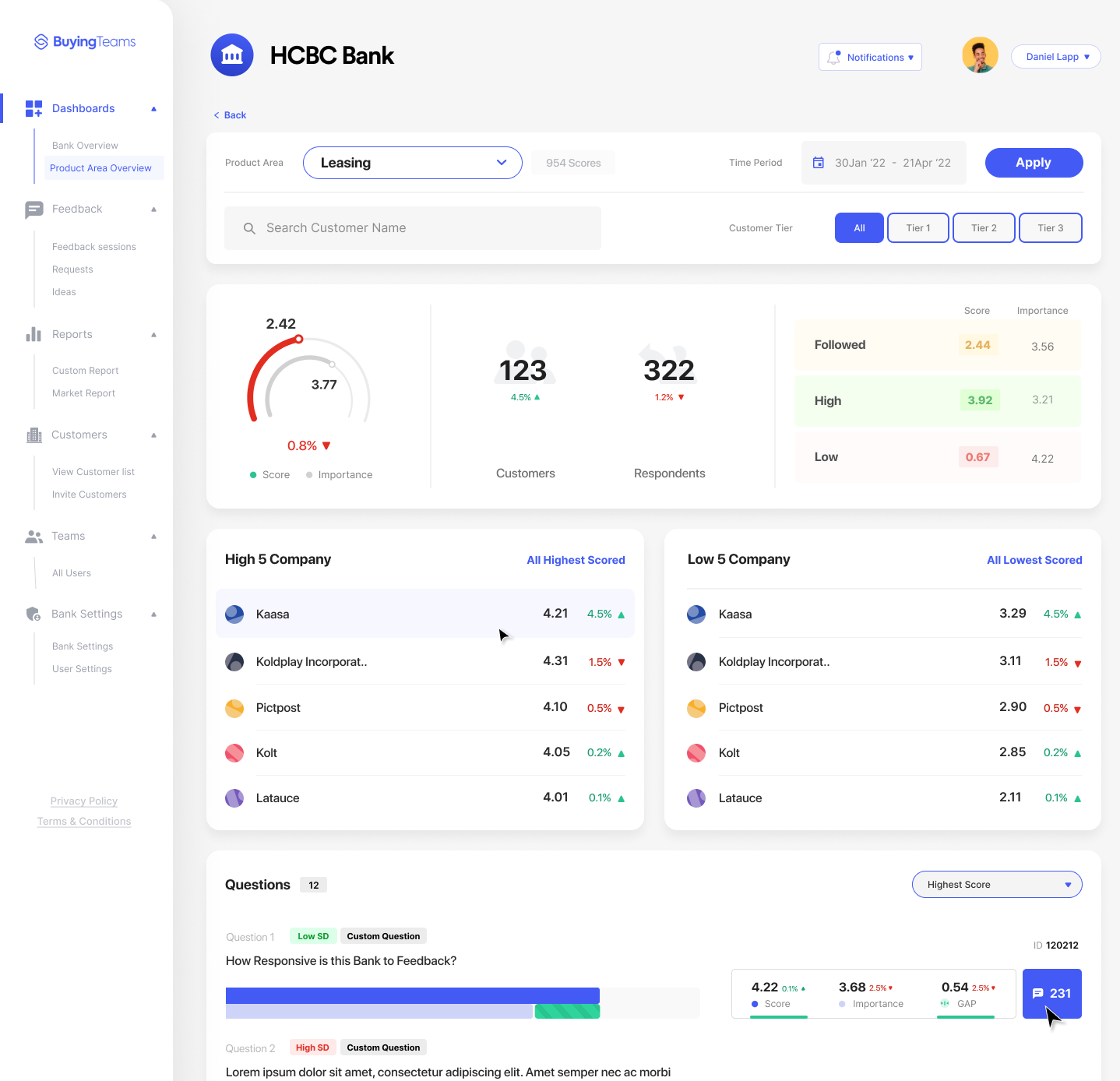 CXFacts supports the ESG activities of Banks
Digital collection of customer data from all relevant customers on the quality of ESG advisory and services offered by your bank.
CXFacts will be a sustainable strategic partner, supporting your bank's sustainability ambitions.
Benchmark Reports and awards on best-in-class ESG advisory and services to the benefit of you and your customers.
Advanced data analytics allowing your bank to take actions to enhance and develop your ESG advisory and services to the benefit of you and your customers.

*Example of ESG questions in CXFacts platform.
We are an ESG-friendly data provider and through our sustainable goals, we have already achieved many milestones. On our ESG page, we have detailed our sustainable activities and future goals as we continue working toward implementing them into effective practices.
Book a video meeting or send us a mail